By Joseph "PaleoJoe" Kchodl
The common Silurian trilobite, CALYMENE celebra, is easy to identify, mostly because of the rock it is found in, the color, and excellent preservation.
It is the State Fossil of Wisconsin. These trilobites are found in the Niagaran limestone of southern Wisconsin, along the border of northern Illinois, near Kankakee, Joliet, and Grafton, Illinois. The trilobite is usually cream-colored, preserved in dolomite. Sometimes, you will see small crystals outside the trilobite that catch the light and reflect.
The trilobite averages just over an inch long and is usually preserved fully inflated, prone, and sometimes with the pygidium tucked underneath.
Trilobites are an extinct form of arthropod related to insects, crabs, crayfish, and horseshoe crabs. These creatures are called trilobite due to the three distinct "lobes" running vertically through the body section.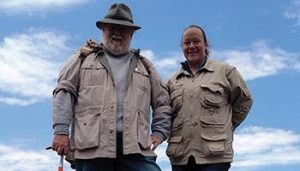 About the columnist: Joseph "PaleoJoe" Kchodl is a paleontologist, educator, veteran, author, fossil dig organizer/guide, business owner, husband, father, and grandfather, and fossil fanatic. For decades, he's spent hours in classrooms around the Midwestern United States and beyond, speaking to school children about fossils and fossil hunting. Visit his site to purchase fossils, contact PaleoJoe, visit www.paleojoe.com.
Plus, learn more about PaleoJoe and his daughter PaleoJen and their paleontology exploration partnership in an the article https://bit.ly/2XrlE4C