By Joseph "PaleoJoe" Kchodl
The featured fossil, a ZACANTHOIDES idahoensis, is a very spiny Cambrian trilobite with a wide cephalon that ends in long genal spines. The thorax is slender and contains nine segments and two pleural lobe sections that end in very long spines. The pleural lobes appear on the flanks of the species.
Editor's Note: This genus of trilobite is identified as a nektobenthic predatory carnivore, which is an organism that swims near the floor of the sea or lake that hunts and eats the flesh of animals.
Generally, this trilobite measures around one inch long – and that includes the spines. There is a long thoracic spine rising from the eighth thoracic lobe. This fossil is a rare and spectacular new find. They can be found in the Spence Shale of Utah.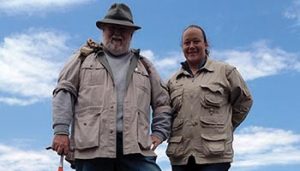 About the columnist: Joseph "PaleoJoe" Kchodl is a paleontologist, educator, veteran, author, fossil dig organizer/guide, business owner, husband, father, and grandfather, and fossil fanatic. For decades, he's spent hours in classrooms around the Midwestern United States and beyond, speaking to school children about fossils and fossil hunting. Visit his site to purchase fossils, contact PaleoJoe, visit www.paleojoe.com.
Plus, learn more about PaleoJoe and his daughter PaleoJen and their paleontology exploration partnership in an the article "Fueling a Passion for Paleontology".