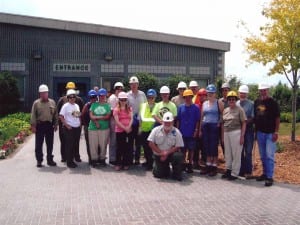 Corporate Team Building Events
Where's the team heading for a team building experience this summer? The usual places, like theme parks or a hotel to sit around and talk, maybe go to a beach like everyone else will this summer? You can go, But what if, on this team building event, you had the chance to go back 350 million years for an experience like no other, outside in the warmth and sunshine.
Did you know that there are other options for team building and if you're looking for a way to learn more about our ancient history and fossils, there's an activity that's bound to attract your attention? The world that we live in now was very different millions of years ago. We all know that. We've seen the museum exhibits and the movies. Joseph "PaleoJoe" Kchodl knows that people are always looking for things to do together, and he has a field trip that's perfectly tailored to entertain, excite and teach. Doesn't that sound a lot more meaningful.
What an exciting opportunity that awaits those who are looking for something that equals quality time for everyone.
Three Hundred and Fifty million years ago, the United States was more than a vacation destination to Disney World and Cedar Point. This field trip will lure fossil hunters to the northern parts of Michigan where they can learn about a time when the unique conditions of the region created an environment that gives the term Magic Kingdom an entirely new meaning.
Specimens are yours to keep. Imagine a place where you can enjoy the majesty of Michigan while exploring a sample of prehistoric life.
PaleoJoe understands the allure of fossils. He began collecting at a young age when he was a young boy living in the Niagara Falls area, a region that's rich in fossils. He donated his collection of marine invertebrates to the Schoellkopf Geological Museum. Later, after his military service ended, he began to specialize in collecting Trilobites, the ancient saltwater creatures that used to thrive when tropical seas covered Michigan, Ohio, and New York.
He's used his degree in education to expand his dinosaur boundaries, teaching classes on fossils in many elementary and middle schools after moving to Midland, Michigan in 1993. His fossil exposition Trilobite Treasures: Arthropods of the Ancient Seas evolved from a small collection into a traveling museum exhibition currently touring the United States. This exhibit, the largest and most comprehensive exhibit on the Cambrian Period's renowned ancient creatures, contains more than 200 actual specimens and artifacts. He has collected fossils not only in Michigan and New York but also in Ohio, Indiana, Illinois, Maryland, Kentucky, Alabama, Wyoming, Montana, Utah, Ontario, Canada and the Czech Republic.
PaleoJoe's expertise and ease make him the perfect host for a trip back in time. Travel back 350 million years with PaleoJoe.
Award-winning paleontologist Joseph Paleo Joe Kchodl (www.paleojoe.com), a real-life fossil and dinosaur digger, is also a storyteller and book author. He shares his knowledge and love of prehistoric life. A developer and curator for three traveling natural history museum exhibits, PaleoJoe imparts the mystery of prehistory to fossil fans of all ages.